Being prepared is your best defence against a fire in your home. Reduce your family's risk of fire-related injury or death by following these safety tips.
Smoke Alarms
Smoke alarms save lives. You can reduce your family's risk of fire-related injury or death by installing the right number of smoke alarms in the right places in your home, and by keeping them in good working order.
It's the law
The Ontario Fire Code requires that every home have working smoke alarms on every level. If you are a landlord it is your responsibility to comply with this law. If you are a tenant it is your responsibility to notify your landlord immediately if your alarm/s is/are not working.
Smoke Alarms save lives
Most fatal fires occur at night when people are asleep. Often, victims never wake up. A working smoke alarm will detect smoke and sound an alarm to alert you, giving you precious time to escape.
Certification Marks
When buying smoke alarms at retail stores or through online websites, it is important to look for products that meet Canadian safety standards.
Smoke alarms with a Canadian certification mark have been tested by laboratory professionals. The mark indicates that the product meets all applicable safety standards set out in Canadian regulations.
Certification marks must be found on:
the smoke alarm, and
the product packaging.
Fire Extinguishers
Purchase a fire extinguisher for your home and keep it handy in the event of a small fire. Make sure you know what to look for when buying a fire extinguisher for your home.
Always check for certification marks, such as ULC.
Fire extinguishers indicate the type of fire that they are designed to extinguish with a letter and the size of fire that they can extinguish with a number. The higher the number rating on the fire extinguisher, the more fire it puts out.
It is important to make sure you can comfortably hold and operate the fire extinguisher you buy.
To use the fire extinguisher, remember the order of operations: P.A.S.S.

Pull – the pin
Aim – at the base of the fire
Squeeze – the trigger
Sweep – back and forth at the base of the fire vigorously.

Fire Inspections
Fire inspections are important for the safety of the public, people who live and work in buildings and for Fire Fighters who may have to enter the building in an emergency situation. It is imperative that all building occupants are able to get out in an emergency in a safe and timely manner.

The Town of Smiths Falls Fire Prevention Plan requires that all "Public" buildings are inspected on a regular system of inspections. The Smiths Falls Fire Department inspects all public buildings on a regular basis in order to provide a maximum of fire safety to the occupant.

During a fire inspection, the Smiths Falls Fire Department is checking to ensure the buildings and the process and/or occupants are meeting the requirements of the current edition of the Ontario Fire Code. This includes checking the condition and maintenance of fire protection equipment such as fire alarms, sprinkler systems, automatic suppression system, fire extinguishers, emergency lighting, power systems, exiting, fire department
access and the presence of fire hazards.
Fire Safety Plans
Fire Safety at home
If a fire occurred in your home tonight, would your family be able to get out safely? It is important that everyone know what to do and where to go when the smoke alarm sounds. Take a few minutes to make a home fire escape plan, by following these steps.
Draw a floor plan of your home
Draw a plan for each level of your home.
Include all possible emergency exits
Draw in all doors, windows and stairways. This will show you and your family all possible escape routes at a glance. Include any features, such as the roof of a garage or porch, that would help in your escape.
Show two ways out of every room, if possible
The door will be the main exit from each room. However, if the door is blocked by smoke or fire, choose an alternate escape route, which could be a window. Make sure that all windows can open easily and that everyone knows how to escape through them to safety. If windows have security bars, make sure they have a quick release.
Identify anyone who needs help to escape
Decide in advance who will help the very young, older adults or people with disabilities in your household. A few minutes of planning will save valuable seconds in a real emergency.
Choose a meeting place outside
Choose a meeting place a safe distance from your home that everyone will remember, for example:
a tree
a street light
a neighbour's home
In case of fire, everyone will go directly to this meeting place so they can be accounted for.
Call the fire department from outside your home
Don't waste valuable seconds calling the fire department from inside your home. Once you have safely escaped, call the fire department from a cell phone or neighbour's home.
Practice your escape
Review the plan with everyone in your household. Walk through the escape routes for each room with the entire family. Use this walk-through exercise to check your escape routes, making sure all exits are practical and easy to use. Hold a fire drill twice a year and time how long it takes. In a real fire, you must react without hesitation as your escape routes may be quickly blocked by smoke or flames.
Fire Safety for your Business
Fire Safety Plans are intended to assist the owner of a building with the basic essentials for the safety of all occupants. They are also designed to ensure an orderly evacuation at the time of an emergency and to provide a maximum degree of flexibility to achieve the necessary Fire Safety for the building.
The implementation of a Fire Safety Plan helps to assure effective maintenance and utilization of Life Safety features in a building, to protect people from fire. The required Fire Safety Plan should be designed to suit the resources of each individual building or complex of buildings.
The Ontario Fire Code, Section 2.82.1.(1) requires the establishment and implementation of a Fire Safety Plan for every building with:
an assembly occupancy
a care occupancy
a care and treatment occupancy
a detention occupancy
a residential occupancy where the occupant load exceeds 10
a retirement home
a business and personal services occupancy where the occupant load exceeds 300
a mercantile occupancy where the occupant load exceeds 300
a high hazard industrial occupancy where the occupant load exceeds 25
a medium hazard industrial occupancy where the occupant load exceeds 100, or
a low hazard industrial occupancy where the occupant load exceeds 300,
containing 4 storeys or more, counting storeys below grade.
There is a review fee depending on the building systems.
Fire Prevention Education
Fire Safety Presentations
The Fire Prevention Division of the Smiths Falls Fire Department is available upon request to give fire safety presentations. Requests typically come from businesses, professional groups, health care facilities, educational institutes and other civic organizations. Topics presented are tailored to the audience and any special requests from the organization and topics might include:
What is Fire? (Fire Tetrahedron)
Four Points of Fire (Black, Gases & Smoke, Heat, Time)
Firefighter Role
Leading Causes of Fire in our Community & Prevention
Smoke Detectors, Alarm & Suppression Systems
Fire Extinguisher Training
Evacuation Plans
Fire Safety in the Workplace
Hotel/Motel Safety
Health Care Facility Safety
Vulnerable Occupencies
Presentations must be booked a minimum of 6 weeks in advance. Presentations are subject to cancellation if an emergency should occur. The Fire Prevention Division will reschedule. If you need to cancel a scheduled tour, the Smiths Falls Fire Department requires at least 48 hours cancellation notice.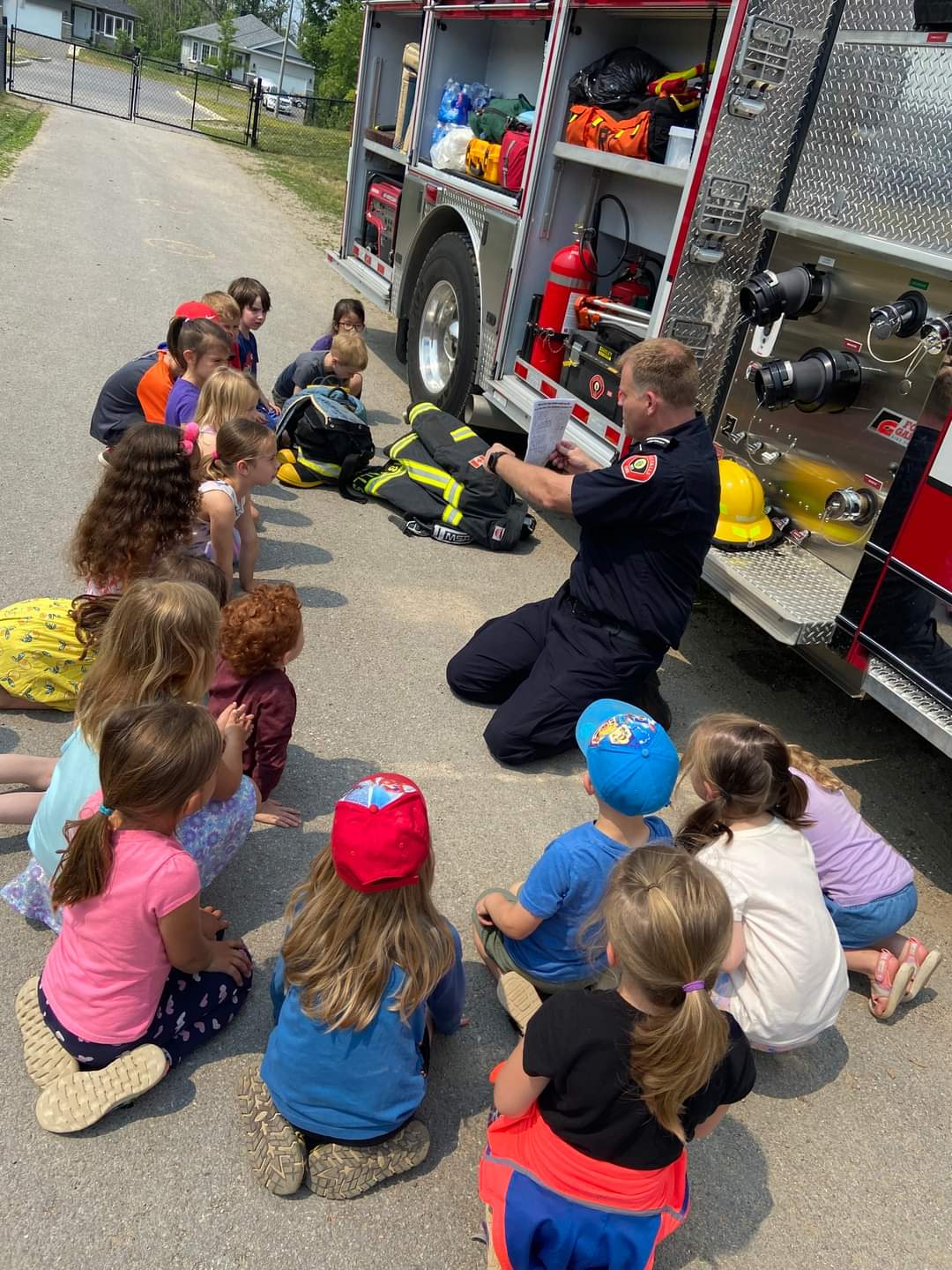 Fire Prevention Week
This annual October event showcases the essential services provided by the Town of Smiths Falls.
Public activities include fire hall open house
various fire safety lectures and presentations
Information and fire safety tips are provided to school children in grades K-5.
The History of Fire Prevention Week Fire Prevention Week was established to commemorate the devastating Chicago fire on October 8, 1871 that killed more than 250 people, left 100,000 homeless, destroyed more than 17,400 structures and burned more than 2,000 acres. The fire changed the way that fire fighters and public officials in Canada and the U.S. think about fire safety. The Fire Marshals Association of North America (today known as the International Fire Marshals Association), decided that the anniversary of the Chicago fire should be observed in a way to educate the public about the importance of fire prevention. Fire Prevention Week was proclaimed in Canada in 1919 to commemorate the Chicago blaze, as well as the major fire that destroyed the Centre Block of the Parliament buildings in Ottawa on February 3, 1916.
The National Fire Protection Association (NFPA) continues today to make National Fire Prevention Week a priority and counts on the participation and efforts of tens of thousands of fire and safety professionals, emergency volunteers, and other individuals working to reduce the risk of fire and the toll it takes on our society. With tremendous help from fire safety advocates throughout North America, Fire Prevention Week continues to be a success each year.
For further information on Fire Safety & Prevention please contact Jason Smith, Lieutenant of Fire Prevention at
613-283-5869 or email at jsmith@smithsfalls.ca
Subscribe to this page