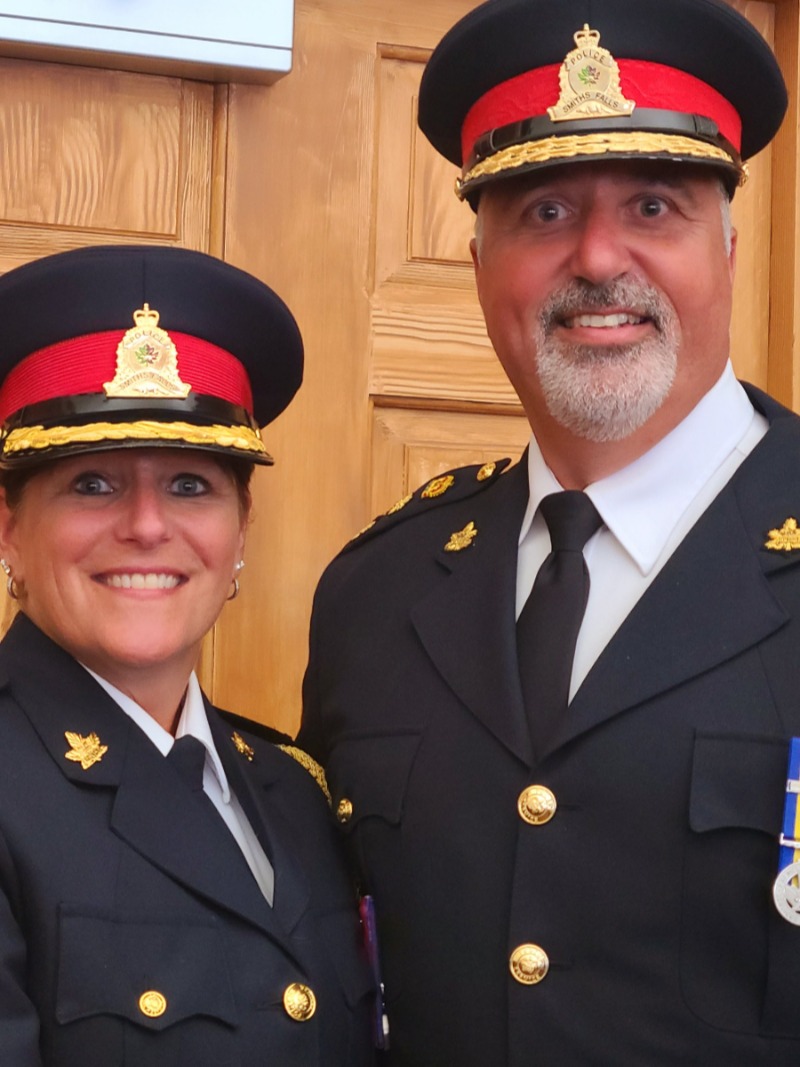 A MESSAGE FROM THE CHIEF
As the Chief of Police I would like to welcome you to the Smiths Falls Police Service website. We offer a great deal of information for our community and visitors to view, with important messages, safety tips, media releases and history of the Service. There are links to other valuable resources and community partners. Since 1887 the Smiths Falls Police Service has provided excellent, professional and friendly policing to the residents of Smiths Falls. With valued input from community partners and citizens, we tailor our policing to fit the needs. We will continue to evolve and grow with the community. I thank all our staff for the hard work, commitment and dedication they bring each and every day. I am honored to be your Chief of Police and look forward to serving this community proudly.
Sincerely,
Mark MacGillivray
Chief of Police
Smiths Falls Police Service
Our History
Our Chiefs of Police Through the Years
Smiths Falls Police was a one man department until 1910. During those and subsequent years their has always been a Chief of Police. Below is a list of all those that have served as Chief of Police for Smiths Falls. It is interesting to note that with the exception of those that have additional details on their years of service, the Officers listed below only served with Smiths Falls Police for the years in which they were Chief.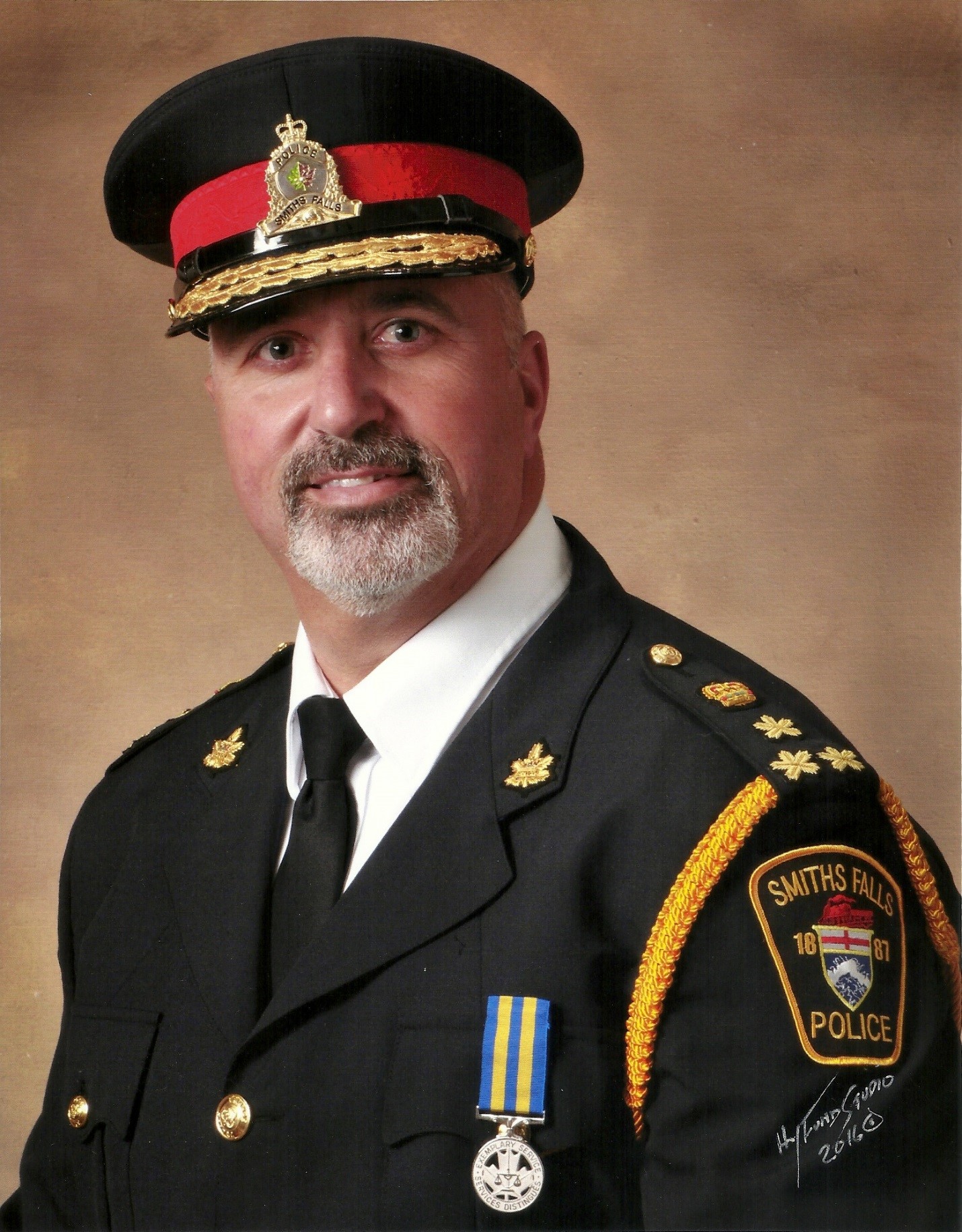 2016- Present
Chief Mark MacGillivray
Mark MacGillivray became a member of the Smiths Falls Police Service in 1987 at the age of 20. He was promoted to the rank of Sergeant in 1998. After a number of years of front line patrol in 2006 he became one of the two first officers named in the newly formed Criminal Investigations Unit investigating numerous major criminal and drug investigations. In 2011, he was promoted to the rank of Staff Sergeant overseeing patrol and the CIU. In June of 2012, Mark was promoted as the Deputy Chief in charge of operations. As of October 1st 2016 he becomes the 20th Chief of Police proudly serving the Town of Smiths Falls.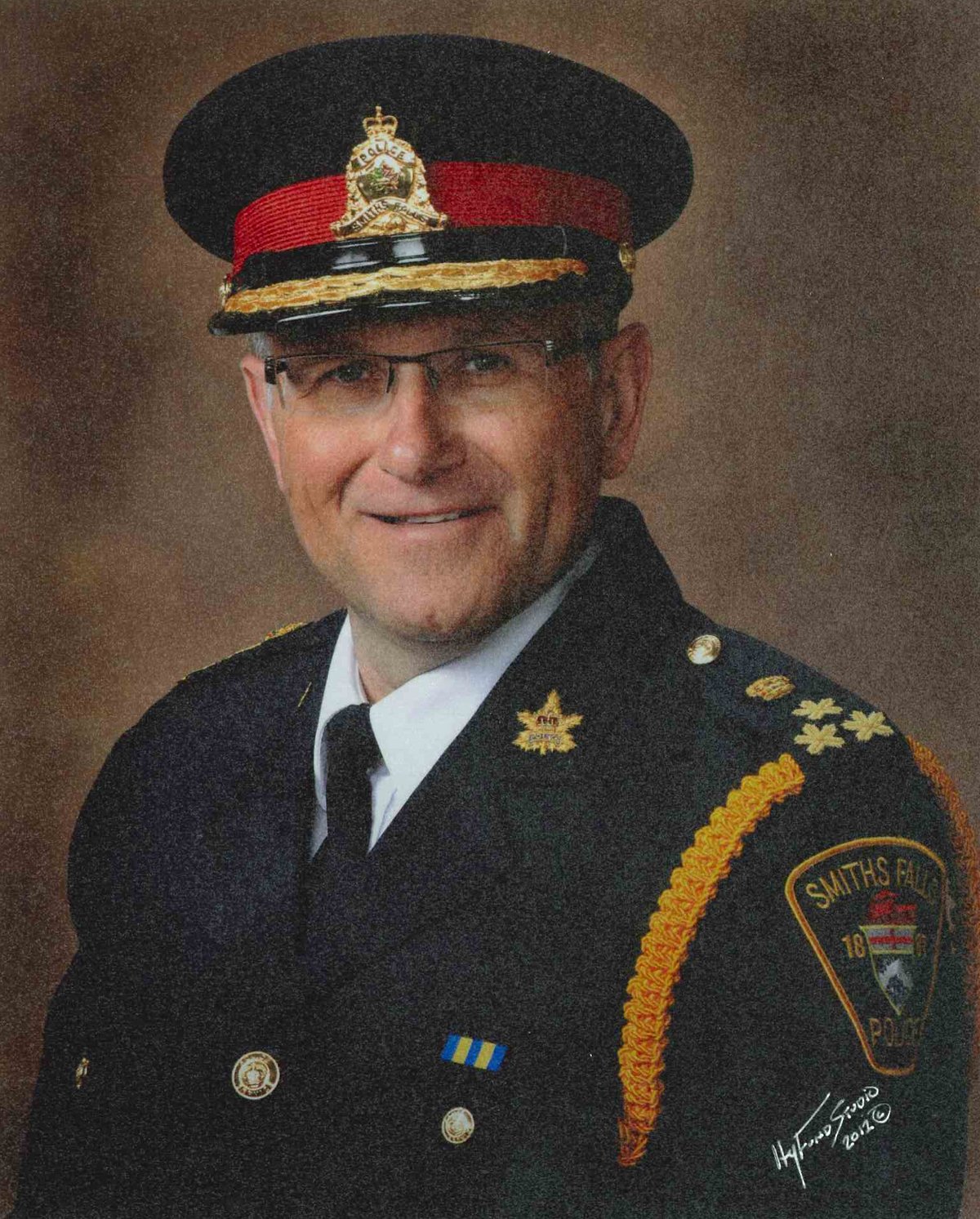 2012-2016
Chief Robert Dowdall
Robert Dowdall joined the Smiths Falls Police Service in 1982. Promoted to the rank of sergeant in 1994 and staff sergeant in 2006, he possessed a strong background in criminal investigation and was involved in many of the police service's major investigations. He was appointed deputy chief of police in 2008 and on March 1st 2012, was named by the Police Services Board to be Chief Hardy's successor and the 19th Chief of Police of the Smiths Falls Police Service. Chief Dowdall will assume command of a police service of 25 officers, 10 civilian employees and two special constables.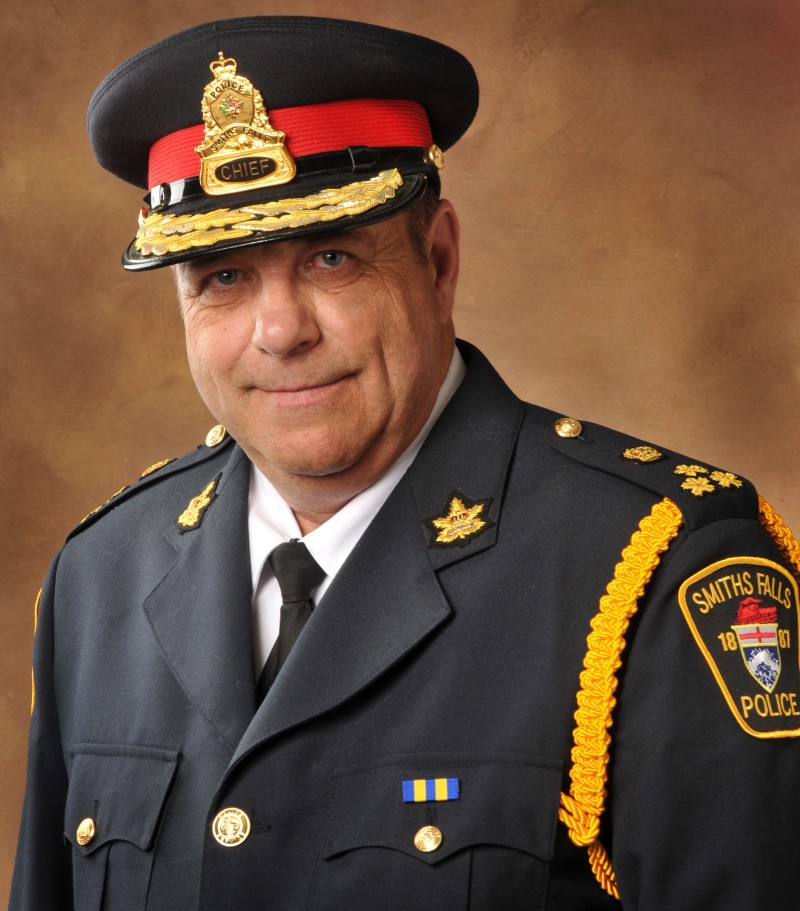 1990-2012
Chief Larry Hardy
Larry Hardy is native of Essex County near Windsor and came to Smiths Falls in 1990 with 16 years of police experience having served with the Metropolitan Toronto Police, the Mersea Township Police, and since 1986 as the chief of the Exeter Police. Chief Hardy is a strong proponent of community based policing and oversaw the implementation of this program in Smiths Falls. During his tenure the police service experienced its greatest development in technology and this was supplemented with comprehensive training for his staff that has provided the town of Smiths Falls with a self sufficient police service. In February 2012 Chief Hardy announced his retirement effective June 30th, the culmination of a 38 year career in policing.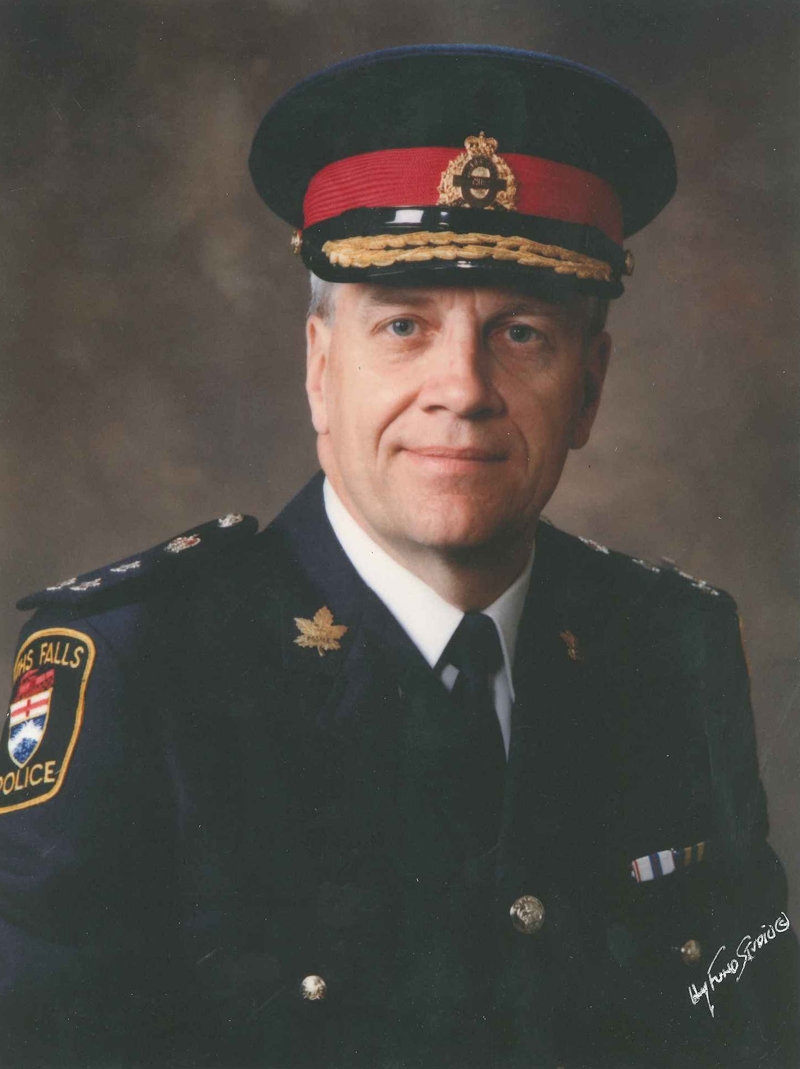 1975-1990 (served 1956-1990)
Chief William Stocker
William Stocker joined the Smiths Falls Police in 1956 after having served four years with the R.C.M.P. He worked his way up through the ranks, promoted to sergeant in 1959, and deputy chief of police in 1969. Chief Stocker had a received substantial training in criminal investigation and was involved in many serious investigations during his time with the service. He oversaw the implementation of civilian dispatchers into the police service in 1981 and the construction of the new police station in 1984. He retired in March 1990 after a police career of 38 years, 34 of those years with the Smiths Falls Police. He left a police service of 17 officers and 6 civilian employees.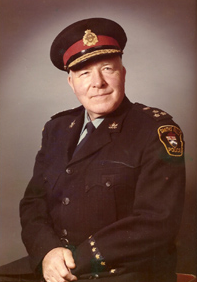 1947-1975 (served 1938-1975)
Chief Reginald Wride
Reg Wride joined the police force in February 1938 as a temporary constable and was taken on full time later in the year. He was promoted to sergeant in 1946 and when Chief Foss resigned in 1947 Sergeant Wride was promoted to head the police force. To this day he remains the longest serving police officer and the longest serving chief of police in the history of the Smiths Falls Police Service. Chief Wride was also well known as an athlete, particularly as a ball player. Issues with his health prompted his retirement in 1975. He took command of a police force of eight in 1947 and at the time of his retirement there were 15 officers and one civilian employee.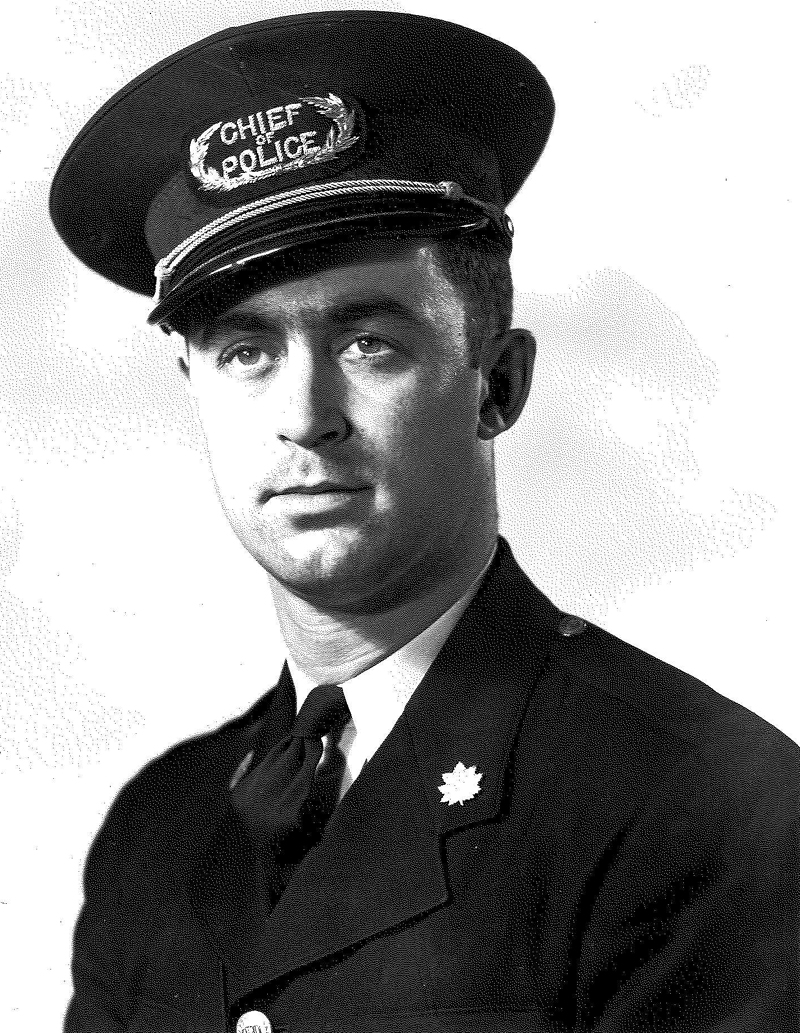 1944-1947
Chief George Foss
The next chief of police turned out to be a familiar face to the members of the department and town citizens. George Foss, a sergeant with the Brockville Police, had been a constable with the Smiths Falls department from 1939 to 1941 when he left to join the police in Brockville. Foss was also well known in the area as an amateur athlete, particularly as a hockey and baseball player. On January 1, 1944, George Foss took up his duties of chief of police in Smiths Falls. The addition of Chief Foss increased the staff and he was the head of a five man department.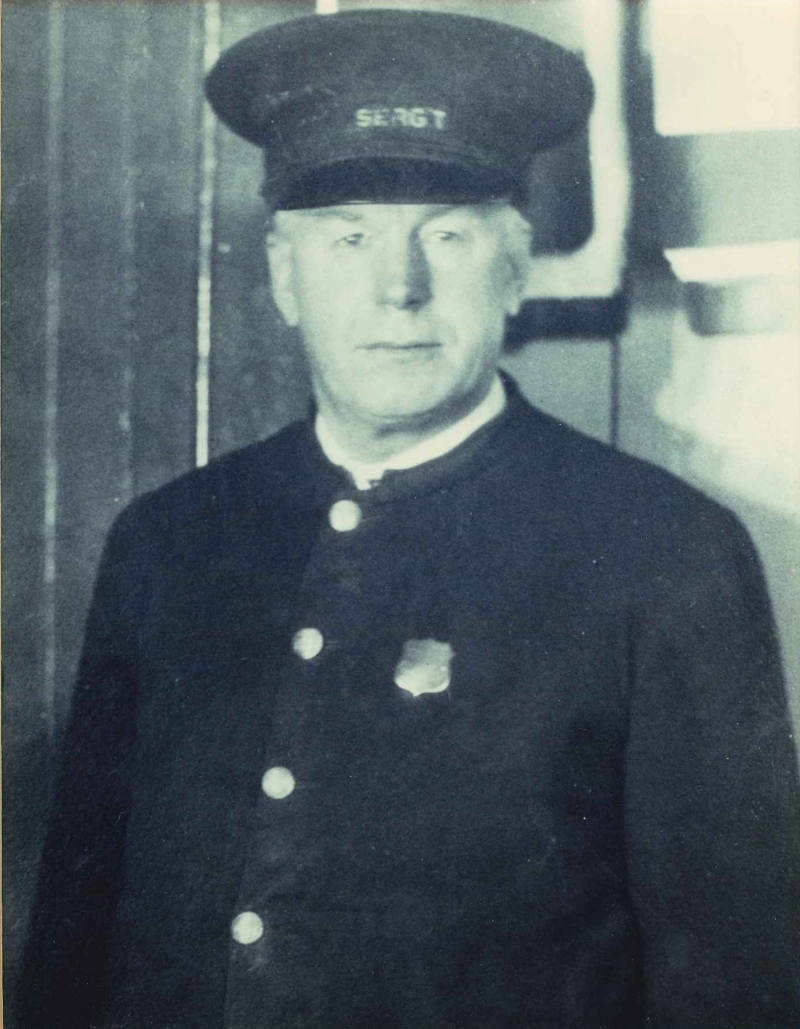 1937-1943
Chief John Lees
John Lees joined the Smiths Falls Police in December 1918. He was the sergeant serving under both Chief Phillips and Chief Bromley. When Chief Bromley left in 1936, John Lees was made acting chief of police and the following year was permanently appointed to the position. In late 1943 Chief Lees found his duties as chief of police to be an increasing burden, as his health began to suffer. Chief Lees by this time was in his mid to late sixties. He decided to give up his position as chief at the end of the year. He remained on staff however as a constable and was to be assigned duties at the discretion of the new chief. John Lees remained on staff until his death in April 1948. By all accounts a very well liked and respected man.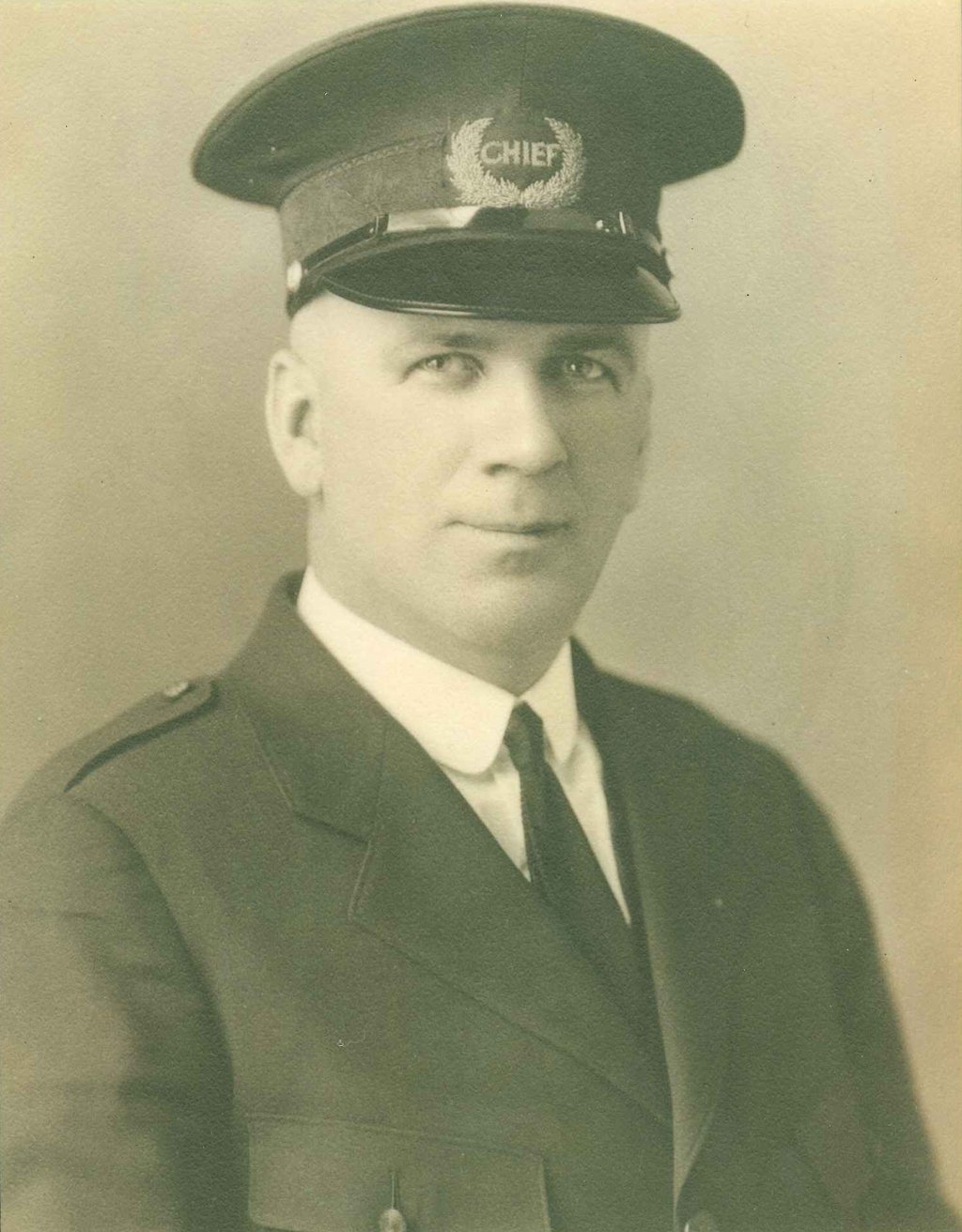 1933-1936
Chief Graham Bromley
When the town council sought a permanent replacement for the departed Chief Phillips, they selected a man from outside the department. Graham Bromley was originally from the Pembroke area and was somewhat of a journeyman policeman. He had started his police career in the 1920's and first worked with the Canadian Pacific Railway police and then with the Peterborough Police as a motorcycle officer, before moving to Galt. Bromley then served as chief of police in Elmira and Campbellford before commencing his duties in Smiths Falls, as chef of police, in June 1933. Chief Bromley's tenure was marked by conflict with the town council. Shortly after the chief was appointed the council did away with one of the constable positions and the staff of the police department was reduced from four to three. He spent his term being subjected to complaints about the level of service and being unable to convince the council to give him more manpower. Chief Bromley left Smiths Falls in 1936 and shortly afterwards became the chief of police in New Liskeard.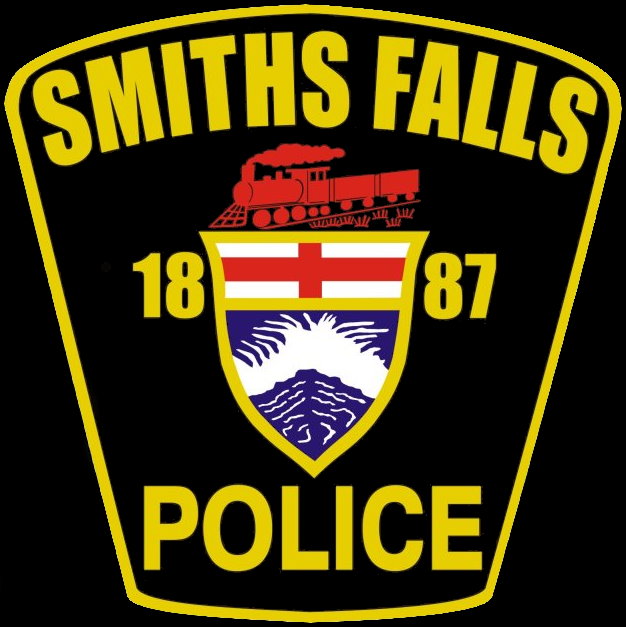 1914-1915
Chief George Mitchell
When the police department was re-organized in 1914 a new chief was sought. The new man was George Mitchell who had at one time had been the chief of police in North Bay. During his tenure Chief Mitchell was also appointed a county constable for Leeds County. Chief Mitchell resigned his position in late 1915.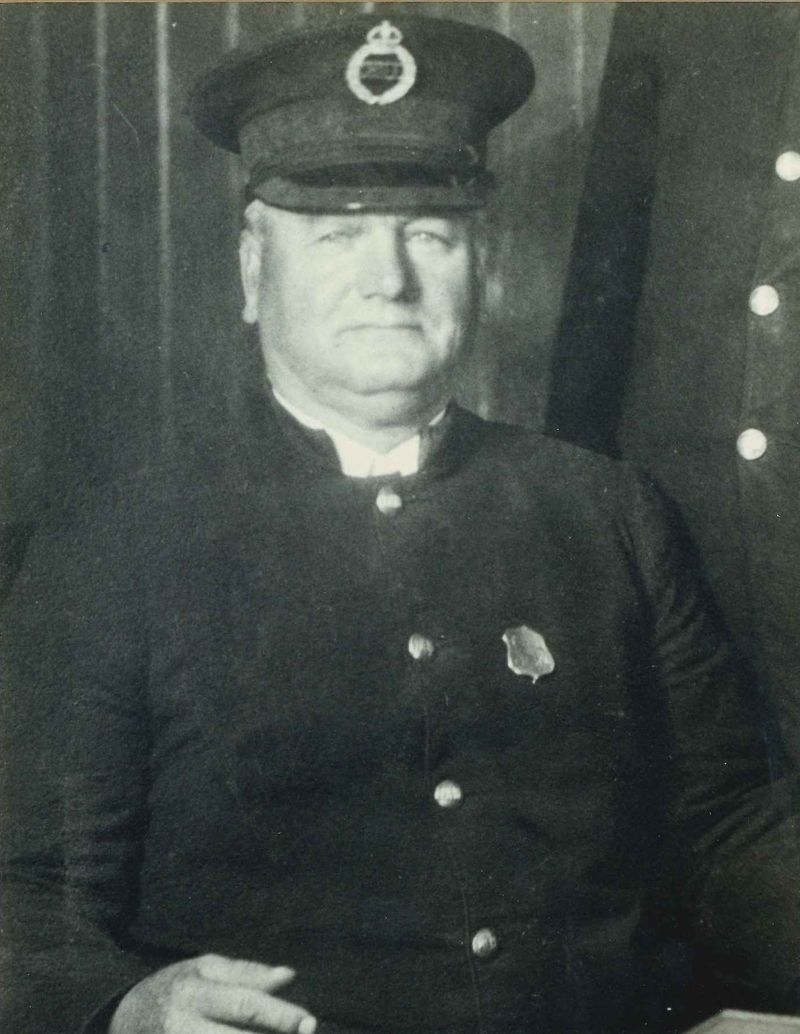 1912-1914 and 1915-1933
Chief George Phillips
George Phillips was hired as the night constable in June 1912. A native of Wolford Township, Phillips was 41 years old at the time and had worked occasionally as a part time constable. In September of that year Chief Sweet submitted his resignation and the town council selected Constable Phillips to be his replacement, only three months after having joined the department. Chief Phillips was released from his duties when the police department was re-organized in 1914, and was given the rank of sergeant. However, the following year he found himself re-appointed chief of police. Chief Phillips and Sergeant John Lees were the two man Smiths Falls police department throughout the 1920's. Chief Phillips was also involved in a shootout with criminals from Ottawa in 1929. He gave up his position as chief in 1933 when his health deteriorated.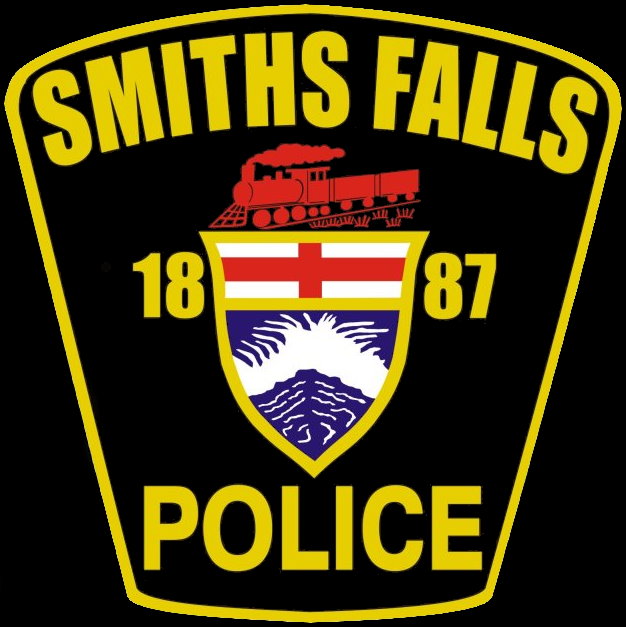 1911-1912
Chief William Sweet
William Sweet came from Trenton and was a grocer before trying his hand at police work. He was described as a stout man and was 6'3″ tall. One of the Chief's duties was to act as prosecutor for all the Smiths Falls Police cases in the Magistrates Court and to keep a record of the cases and their disposition. Chief Sweet maintained a large bound ledger book in which he handwrote the names and details of the persons before the court, their charges, their disposition and the totals of any fines collected. This ledger book was maintained by subsequent chiefs and it is still in the possession of the police service today and provides a unique example of how justice was administered a century ago. Chief Sweet's method of record keeping and procedure impressed the town council so much that he was given a raise in salary only months after starting on the job.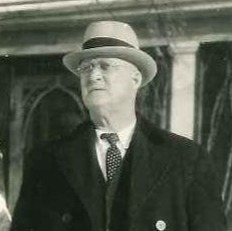 1906-1910
Chief Charles Edwards
Charles Edwards was hired as the new chief of police and was a blacksmith by trade, and at 6'4″ in height must have been an imposing figure. Chief Edwards had come from Merrickville where he had served as the part time chief of police for that village. The new chief received an annual salary of $600.00. The highlight of Chief Edwards' tenure was his involvement in a murder investigation in 1910. The case involved a man who had strangled his wife. Convicted at court the man was sentenced to hang and would prove to be the last person executed in Lanark County.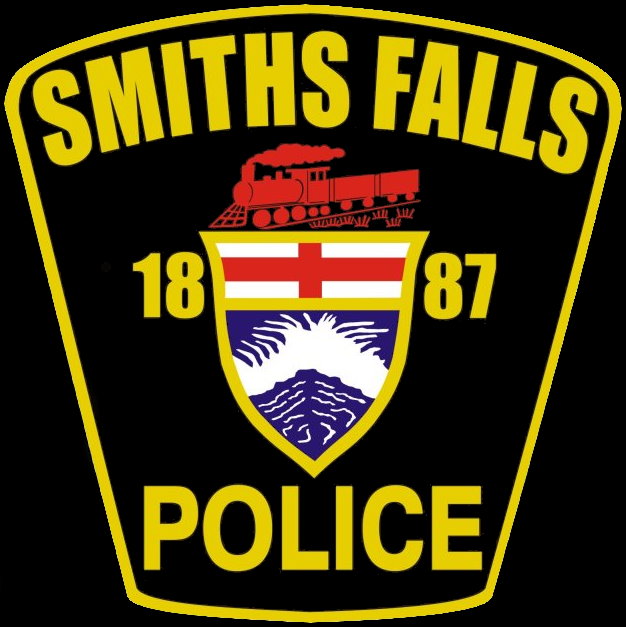 1902-1906
Chief Miner W. Sweet
Miner Sweet became the next chief of police. Chief Sweet had been a constable with the Brockville Police for a number of years and was hired from more than a dozen applicants for the job. Sweet was given a salary of $500.00 a year, plus free rent in an apartment in the town hall with free fuel and electricity. He worked 14 hour days, seven days a week and also served as the sanitation inspector. Perhaps the workload was a factor in his decision to leave the post in 1906, as the town council saw fit to hire two men to replace him.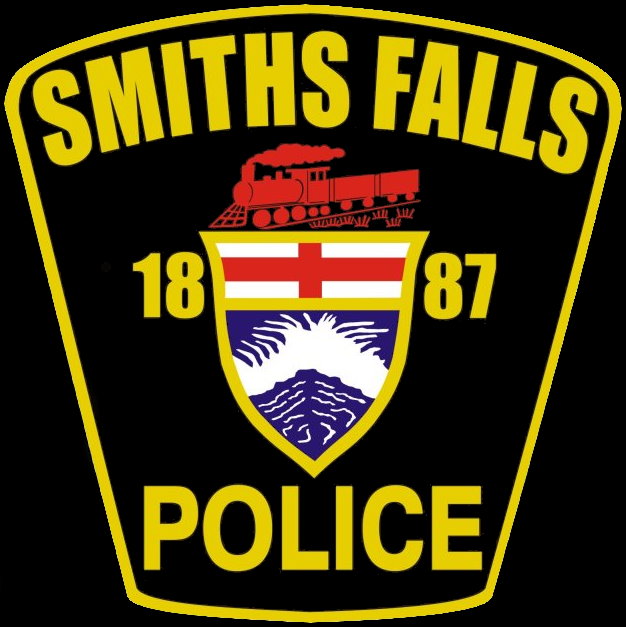 1890
Chief Alexander Vernon
Alexander Vernon followed Chief McGowan in 1890. Originally from Scotland Chief Vernon had an impressive military background in the British Army, having served in campaigns in the Crimea and Afghanistan. Chief Vernon's tenure as a policeman however would be short. Within three months he relinquished his position and the town council re-appointed Robert McGowan.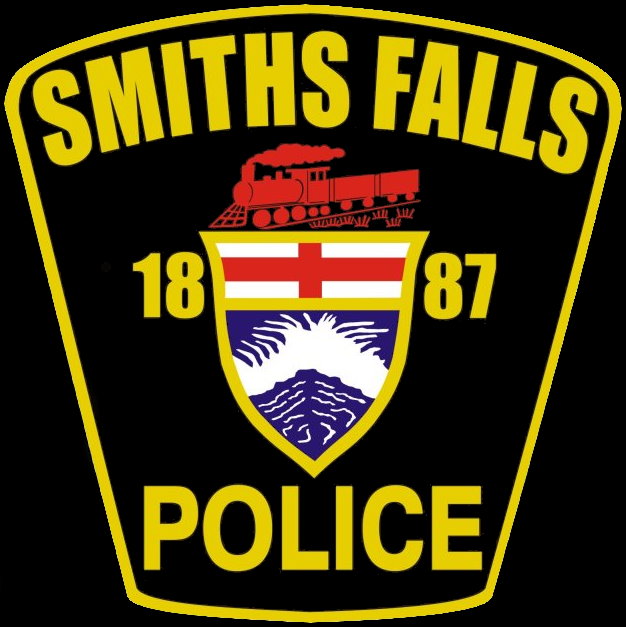 1888-1890 and 1890-1902
Chief Robert McGowan
A native of Ireland Robert McGowan came with extensive police experience having previously served with the Royal Irish Constabulary and, after coming to Canada, he served as a detective for the Province of Ontario. The chief was given a salary was $480.00 a year. In 1890 Chief McGowan found himself dismissed by the town council, but some months later was given a second chance. By all accounts he was an efficient police officer. Chief McGowan was involved in a high profile investigation of a triple murder that occurred in Kitley Township in 1893. The case was successfully prosecuted and the culprit hanged for his crime. Chief McGowan received high praise for his investigative work in apprehending the responsible party. He remained chief until 1902.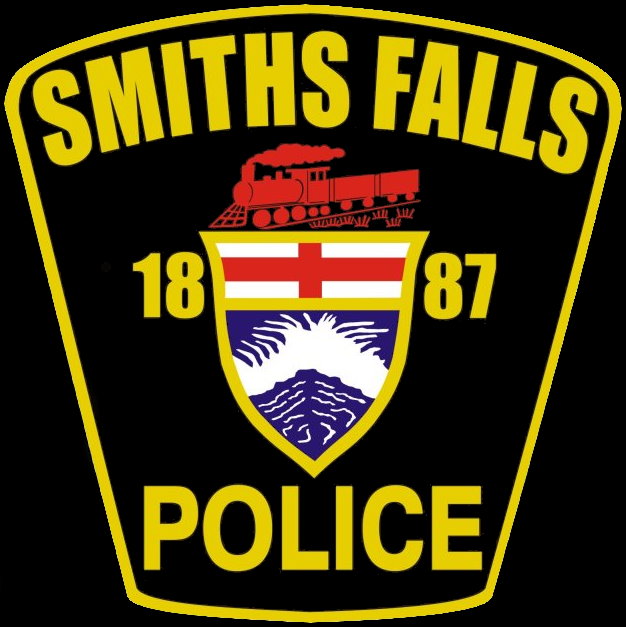 1884-1887
Chief Robert Reynolds
Robert Reynolds was appointed chief in 1884 at a salary of $275.00 a year, plus fees. He stayed on as chief until 1887 when his appointment was not renewed by the town council. After his term as chief it appeared he relocated to Wolford Township where he took up farming.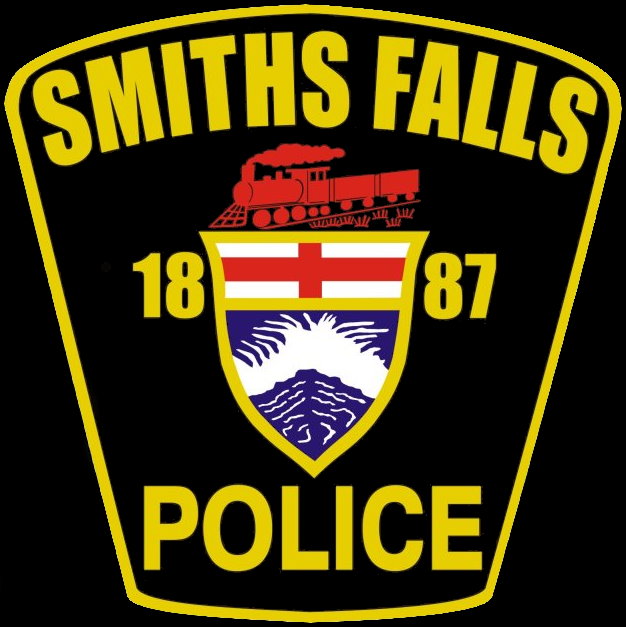 1883-1884
Chief James Gilroy
James Gilroy became chief in 1883 and not much is known of his background or time in Smiths Falls, other than his name appeared from time to time for having received police fees. It appears he was only a chief for a portion of the year and that the remainder of his term was filled by the part time constables.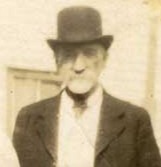 1882-1883
Chief William McGillivray
William McGillivray became chief of police in 1882, and had originally been a carpenter. Chief McGillivray remained only one year before leaving and going into private enterprise. He did maintain his connection with law enforcement. McGillivray became a Lanark County constable and served well into the 20th century. He also continued to work as a constable in Smiths Falls on a part time basis and was called on many times to fill temporary vacancies. In 1916 and 1917 he served full time as a sergeant with the Smiths Falls Police before resuming his county constabulary duties. His last recorded involvement with the Smiths Falls Police was in 1922. McGillivray's career in law enforcement would span some forty years.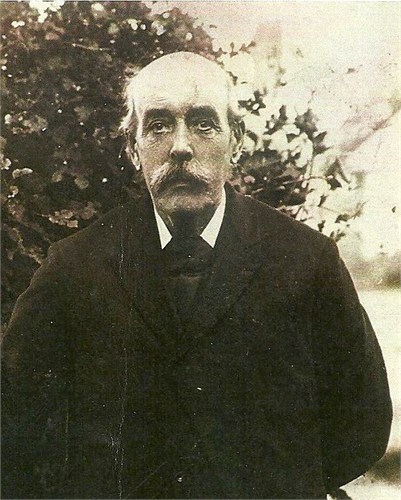 1881-1882
Chief John B. Drew
John Drew was originally a blacksmith by trade. He served as a county constable in the Smiths Falls area during the 1860's and was appointed as a part time constable by the Smiths Falls village council during the 1870's. On February 9, 1881, the Smiths Falls council decided to appoint a full time police officer. John Drew was then appointed as the first chief of police at a salary of $100.00 a year. Along with being appointed the chief of police, he was also the street inspector and the sanitary inspector.
LEARN MORE ABOUT OUR HISTORY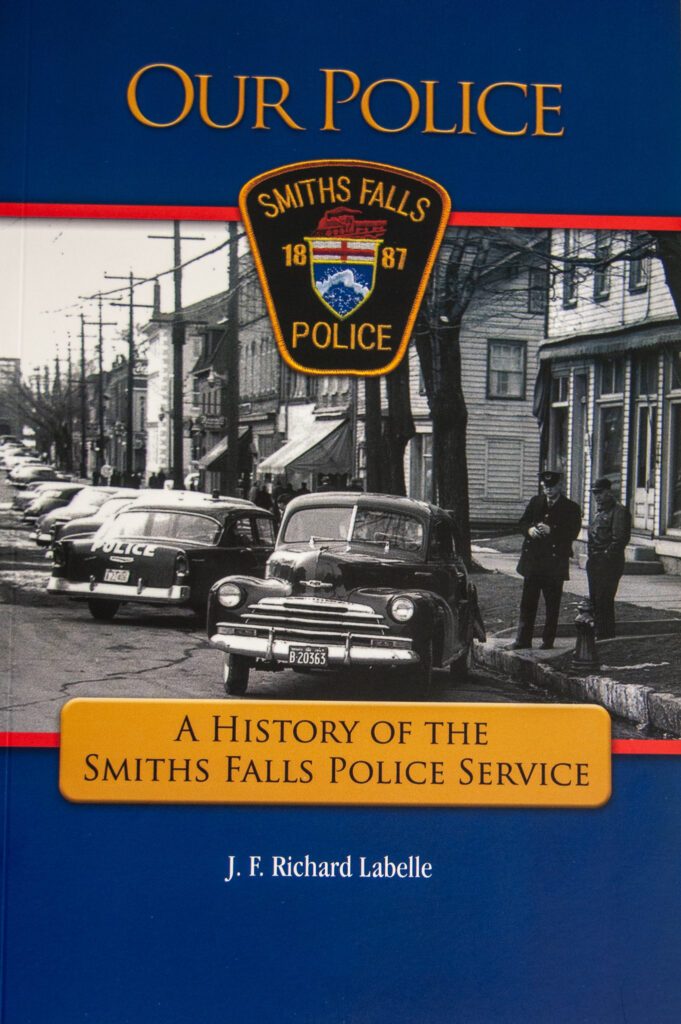 "Our Police: A history of the Smiths Falls Police Service" was written by Deputy Chief Richard Labelle in conjunction with the Services 125th Anniversary.
The book provides a comprehensive chronological history of the Smiths Falls Police Service and law enforcement in the Smiths Falls area from the 1850's onward.
To purchase contact Smiths Falls Police by phone 613-283-0357 x 0 (let dispatch know you would like to buy the book)
The Price is: $20.00 (That includes Tax)
Subscribe to this page