Fire Permits are required for the following:
Fireworks
The Town's Fireworks By-law sets out rules and regulations regarding the use fireworks. Currently there are 4 specific holidays in which fireworks are allowed:
Victoria Day (May 24th)
Canada Day (July 1st)
US Independence Day (July 4th)
New Years Eve (Dec 31st)
The Fire Department will consider other community/private events which propose the display fireworks on an individual application bases, the the submission of a Fireworks Permit Application.
A fireworks permit is required before residents can light fireworks within the limit of the Town of Smiths Falls. The cost of a permit is $75 for the first year, $50 for subsequent years and $25 if concurrent with a business licence.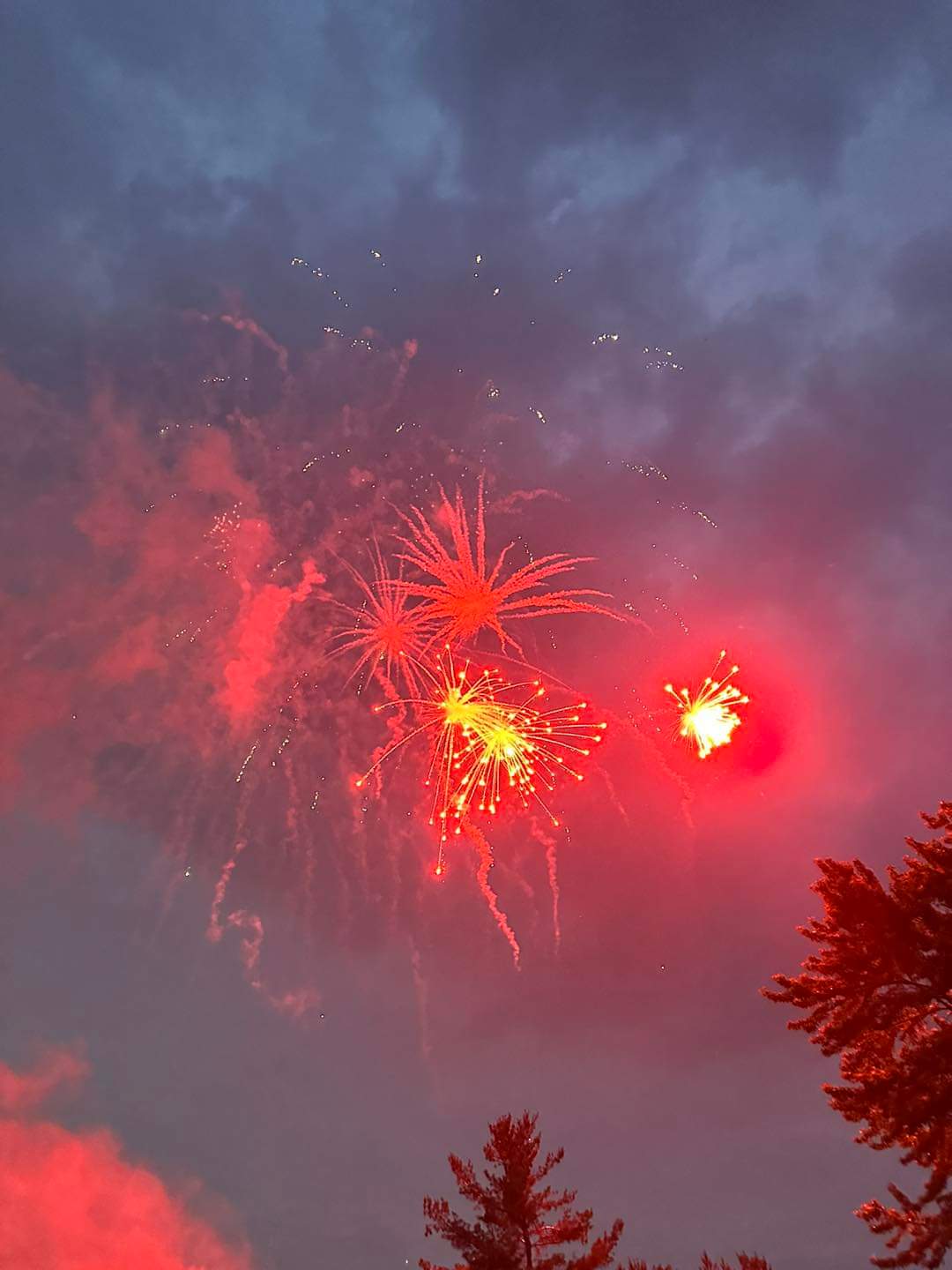 Open Air Burning
Burn permits (or open air fire permits) are regulated by the Open Air Fire By-law. Open air fires and outdoor fireplaces are not allowed in the fire zone 1, zone 2, or fire zone 3 unless approved by the Fire Chief.
A permit is required in order to light a fire on private property; this includes having a backyard fire or using a large fire pit.
A permit is not necessary for outdoor natural gas, propane or ethanol fireplaces.
If a device is designed and intended solely for the cooking of food in the open air, it does not require an open air fire permit, provided it does not burn wood, tree limbs, branches and non-compostable material limited to paper and sisal twine.
Approved cooking appliances include gas, charcoal or propane BBQ/hibachis or gas or propane outdoor fireplace and must be ULC approved. View our Outdoor Fireplace Guidelines.
How to apply for a permit?
Follow the Burn Permits link, which will take you to the Smiths Falls Burn Permits site.
If you have an existing account, log in using your email and password. If you are creating a new account, use your email and create a password to activate an account. *Note: This is where you will login to apply for all future permits.
Once you have an account created, Fire Department personnel will be able to access your permit application online.
For permit renewals, all existing information will be confirmed to ensure accuracy. The permit will then be submitted for approval, and an email will be sent to the permit applicant with a prompt for them to pay the permit fee. Once paid, the permit should be generated automatically and sent back to the applicant's email.
For new permit applications, the applicant will provide details such as address and contact information. New applications will be followed by an inspection of the property/appliance to ensure compliance with the Open Air Fire By-law. Upon inspection, if the Fire Departments deems the property to be compliant with the By-law and that a fire can be safely maintained on the premise, the permit will be submitted for approval. An email will be sent to the permit applicant with a prompt for them to pay the permit fee. Once paid, the permit should be generated automatically and sent back to the applicant's email.
Property inspections and processing of open air fire permits will take place Monday - Friday.
Please allow up to 10 working days for the delivery/approval of your fire permit.
An open air and outdoor fireplace permit is valid for the calendar year. A permit for an outdoor fireplace must be renewed on an annual basis.
What is the cost of a permit?
$15 (tax included) for an annual outdoor fireplace and open air permit
$15 (tax included) for a renewal of an annual open air fire permit
$25 (tax included) for a specific event permit
Fire Zones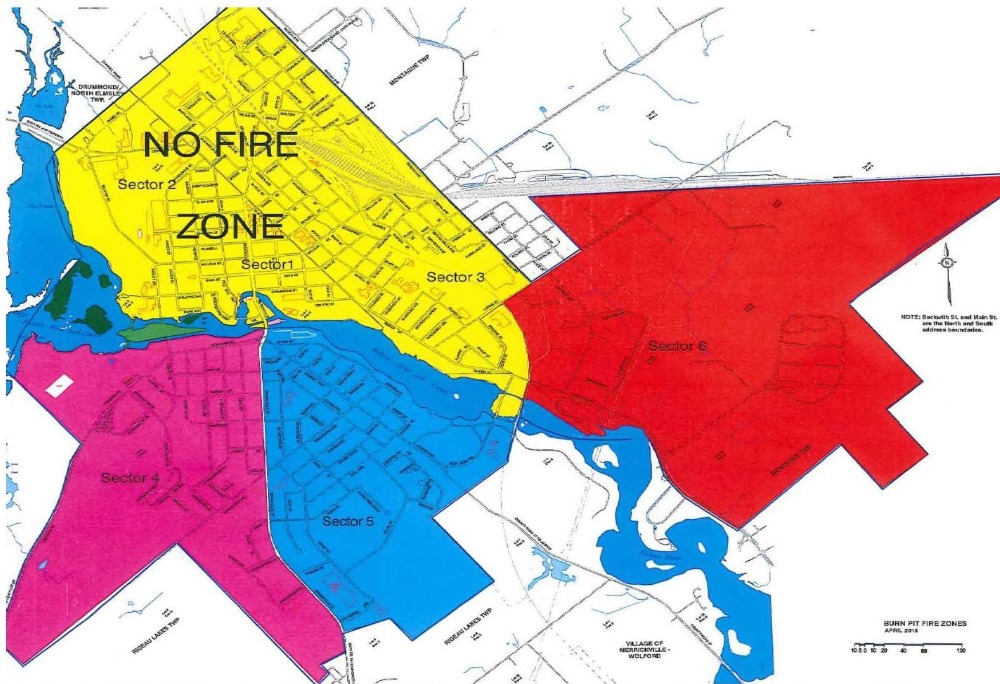 Special Events
Specific Event Permits can only be obtained at the Fire Prevention Division, given the requirement for a site inspection by Smiths Falls Fire Department staff prior to permit issuance. A specific event permit allows open air fires that are normally not allowed in designated no burn areas.
Only a community not-for-profit organization or a religious institution may apply for an open-air fire permit to conduct campfires or open-air fires in an outdoor fireplace for cultural, religious or recreational specific events.
Why are fires prohibited in some areas?
It is unsafe to set and maintain open air fires in certain areas of the town. Population density and average lot size criteria were considered in the determination of the areas in which open air fires are permitted. Smiths Falls Fire Department does not approve of open air burning in urban areas or near buildings. Therefore, outdoor fireplaces are not permitted in urban areas.
Are all fireplaces created equal?
No. Fireplaces (heavy metal or masonry) are designed to be used outdoors rather than indoors and limit the heat and sparks through their design.
What is a fire ban and why can't I burn when in effect?
A fire ban, which is declared by the Fire Chief or his designate and is based largely on environmental conditions, is a period of time during which no one may set or maintain any open air fire anywhere within the town limits for reasons related to public safety and protection of property.
Fire and Carbon Monoxide Alarm Systems
The Town of Smiths Falls Fire and Carbon Monoxide Alarm System By-law promotes the responsible use of alarm systems by both companies and individuals. The Bylaw:
Reduces the number of false alarms that the Fire Department attend.
Requires all alarm system monitored by a monitoring service to have a valid alarm system permit.
A permit application can be obtained online. The cost is $10 and must be paid annually. Each Fire and CO Alarm System is required to have the contact information of two key holders.
For more information contact the Smiths Falls Fire Department, Lieutenant - Fire Prevention Officer Jason Smiths at 613-283-5869 or by email at jsmith@smithfalls.ca
Subscribe to this page