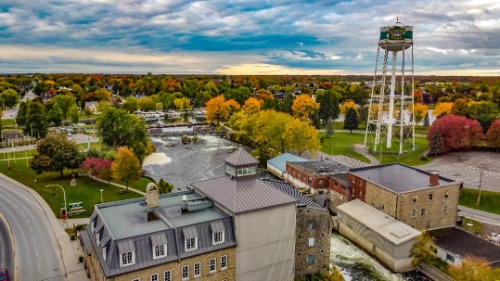 The Opportunity
The Corporation of the Town of Smiths Falls is inviting proposals for the Sale/Lease and Redevelopment of the Former Water Treatment Plant known municipally as 25 Old Mill Road.
This urban-oriented development opportunity consists of a collection of Town owned, privately owned and leased properties in the central business district along the UNESCO designated Rideau Canal World Heritage site. The subject site consists of two main parcels which total approximately 2.40 acres in size. The nearby Town-owned "water tower" property and the privately owned properties adjacent to the former water treatment building are optional parcels for purchase. The nearby federally-owned heritage building "west mill" and the adjacent parking lot is an optional long-term lease opportunity within the area's redevelopment plans. The properties are ideally located at the base of the downtown core, overlooking the Rideau Canal and beautiful Centennial Park.
The Town of Smiths Falls is seeking an innovative developer that shares the Town's vision for a unique mixed-use development that features retail/commercial and residential offerings, which celebrates and preserves the Town's culture and heritage while showcasing it's current and future potential.
Download the full Request for Proposal tender documents.
Who's Listening
Julia Crowder
Manager, Economic Development & Tourism
Phone: 613-283-4124 Ext 1107
Email: jcrowder@smithsfalls.ca
Subscribe to this page