Why Smiths Falls?
SUPPORT FOR NEW BUSINESS
We offer a strong support system for businesses, whether start-up, midsize or established enterprises. We're working hard to make sure we have the tools you need to establish your business, and have it prosper.
LOWER BUSINESS COSTS
It costs less to operate a business in Smiths Falls. IN the KNOW magazine listed Smiths Falls as having the second lowest business costs in the world. How do we do this? We work with economic development strategies that maximize efficiencies in our infrastructure, we have low water hook-up fees, plus we have a stock of investor-ready industrial space, at an affordable price. Open your business here, for less.
TRANSPORTATION HUB
Smiths Falls sits at the center of a transportation hub for vehicular, rail, water, and aerial traffic. We are:
A destination and route for passenger and freight train lines. VIA Rail provides daily passenger service to and from Ottawa and Kingston, while the CNR and CPR freight trains also pass directly through Smiths Falls.
A conduit for water traffic. The Rideau Canal runs through the center of Smiths Falls and offers a water-based mode of transportation.
A flight destination for aerial traffic. The Russ Beach Smiths Falls-Montague Airport is located just outside of Smiths Falls, and can accommodate small passenger planes and air delivery services.

City
Airport
KM
MILES

Ottawa

Ottawa International Airport
66
41
Kingston
Norman Rogers Airport
100
62
Montreal

Pierre Elliot Trudeau International Airport

Mirabel International Airport

228

230

141

129

Toronto

Billy Bishop International Airport

Lester B. Pearson International Airport

353

357

219

221

Syracuse, NY
Hancock International Airport
231
143
ACCESS TO URBAN CENTRES
The town of Smiths Falls is only a short drive to Carleton Place, and from there it's a straight shoot to the City of Ottawa on a major four-lane highway. The city of Kingston is 1.5 hours away, and Brockville is 45 minutes. VIA Rail runs right through the town of Smiths Falls, and will take you to Ottawa, Kingston, Toronto, and beyond.
| Location | KM | MILES |
| --- | --- | --- |
| Ottawa | 78 | 48 |
| Perth | 19 | 11 |
| Carleton Place | 29 | 18 |
| Brockville | 51 | 31 |
| Kingston | 96 | 59 |
| Toronto | 343 | 213 |
| Montreal | 250 | 155 |
UPDATED INFRASTRUCTURE
Over the past several years, Smiths Falls has invested more than $50 million into municipal infrastructure, including a new hospital, new arena, and updates to water treatment and sewer plant. Most recently our main street through town went under a major redevelopment, now complete with brand new infrastructure to accommodate the rapid growth we are experiencing. With this strong commitment to creating sustainable infrastructure, Smiths Falls is well positioned for continued growth.
DIVERSIFIED ECONOMIC BASE
Smiths Falls is committed to fostering a strong, diverse community that will attract investors and entrepreneurs. Our comprehensive Economic Development strategy is focused on working with innovative entrepreneurs in industries like food processing, manufacturing, pharmaceuticals, emerging technologies, and Tourism which is one of our largest generators of local GDP.
IN-PERSON COMMUNICATION
We offer in-person communication with prospective investors. This means less time spent navigating municipal regulations and the opportunity for sit-down, face to face engagement. Contact us today to learn more about all the reasons why Smiths Falls is where you want your business to call home.
ECONOMY OVERVIEW
| Statistics Canada Census, 2021 | Smiths Falls | Ontario |
| --- | --- | --- |
| Population 2021 | 9,254 | 14,223,942 |
| Population Percentage Change 2016 to 2021 | 5.4 | 5.8 |
| Population Density/Sq.km. | 958.1 | 15.9 |
| Land Area in square kilometers | 9.66 | 892,441.76 |
| Average age of population 2021 | 45.4 | 41.8 |
| Median age of population 2021 | 47.2 | 41.6 |
| Average household income | 72,100 | 116,000 |
| Average Full Year, Full Time Worker income | 57,100 | 82,400 |
| (Source: Statistics Canada Census, 2021) | | |
Previous Census Comparisons

| Statistics Canada Census, 2016 | Smiths Falls | Ontario |
| --- | --- | --- |
| Population 2016 | 8,780 | 13,448,494 |
| Population Percentage Change 2011 - 2016 | -2.2 | 4.6 |
| Population Density/Sq.km. | 909.1 | 14.8 |
| Land Area in square kilometers | 9.66 | 908,699.33 |
| Average age of Population 2016 | 44.7 | 41.0 |
| Median age of population 2016 | 48.1 | 40.6 |
| Average household income | 57,432 | 97,856 |
| Average Full Year, Full Time Worker income | 48,350 | 68,628 |
| (Source: Statistics Canada Census, 2016) | | |
View our Investor Profile - 2021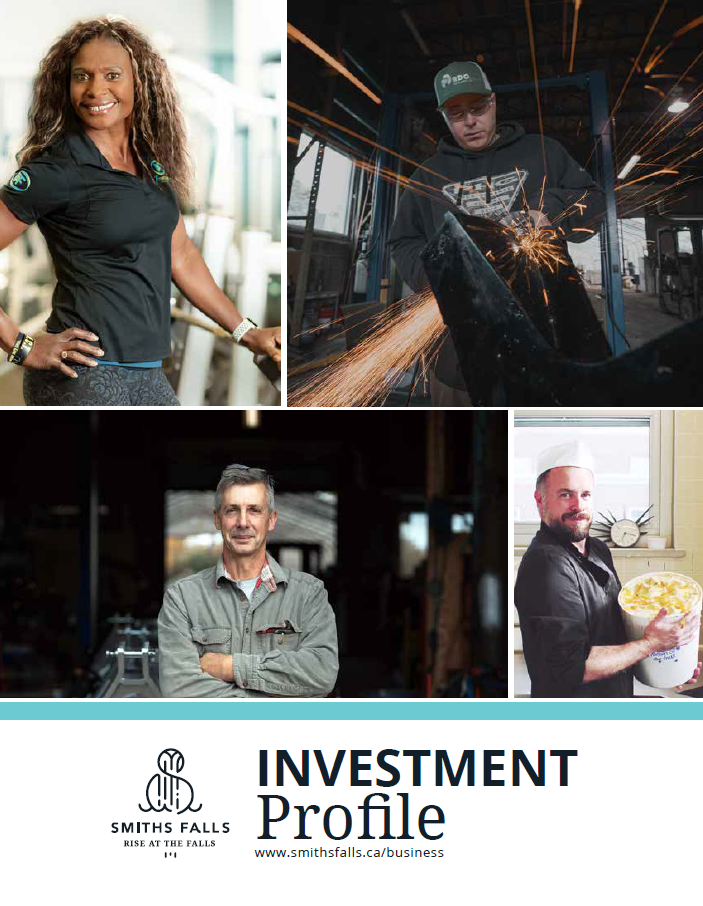 For more information on investment and development opportunities in the Town of Smiths please contact the Manager of Economic Development and Tourism, Julia Crowder at 613-283-4124 x 11007 or by email at jcrowder@smithsfalls.ca
Subscribe to this page