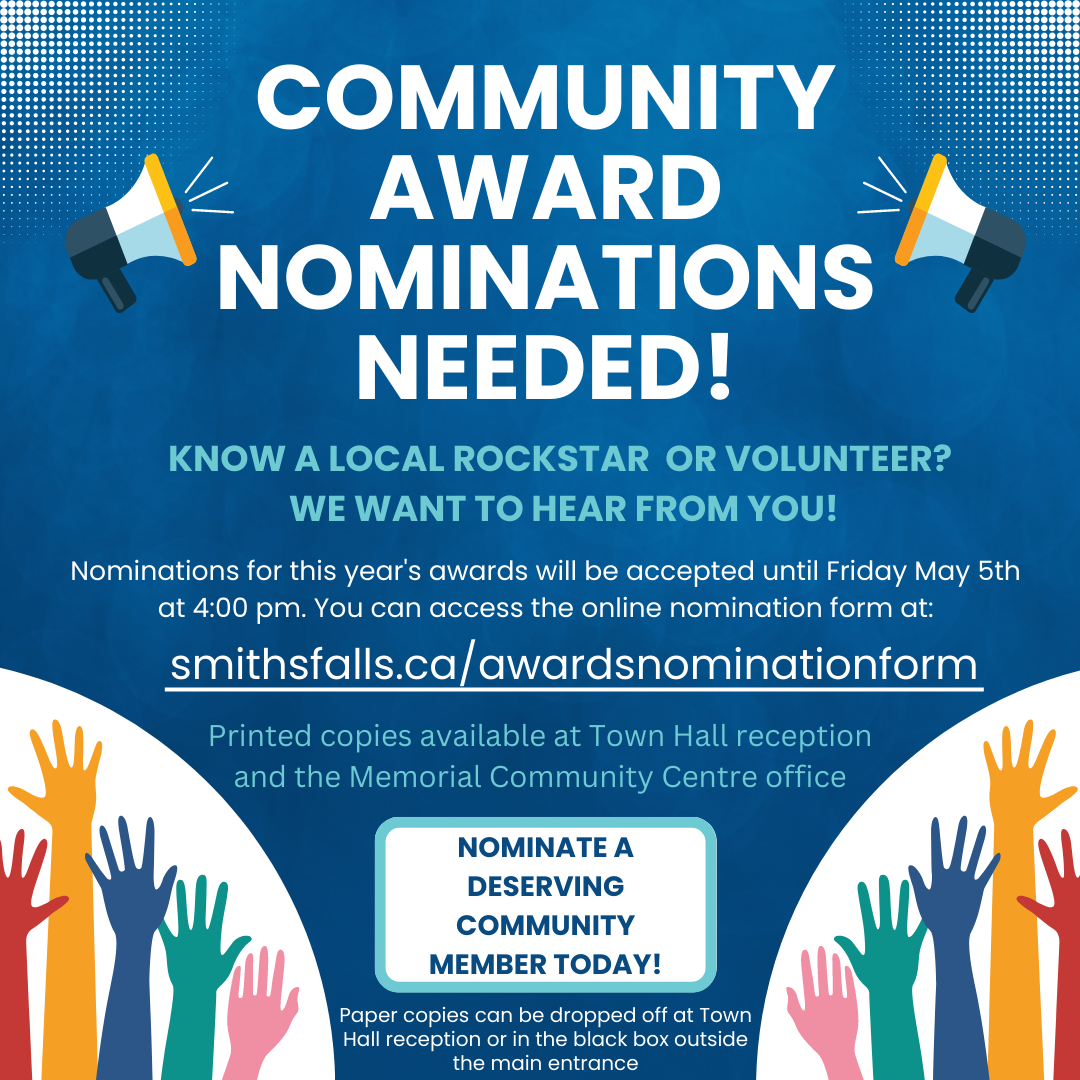 MEDIA RELEASE
FOR IMMEDIATE RELEASE
April 20, 2023
Smiths Falls seeks nominations for 2023 Community Awards
SMITHS FALLS, ON – The Town of Smiths Falls is pleased to recognize and honour the achievements and contributions of community volunteers and outstanding citizens who work to enhance the quality of life in Smiths Falls.
"We are fortunate to have so many dedicated volunteers working behind the scenes to make Smiths Falls such a wonderful place to live," said Mayor Shawn Pankow. "This is an opportunity to shine a light on their good work and show our gratitude for all they do."
The Town is inviting you to submit nominations for local individuals or groups who have made significant contributions to the Smiths Falls community, and meet the criteria for the following award categories:
Brooke & Brittany Henderson Award for Youth: This award recognizes a community youth volunteer who exemplifies Brooke and Brittany's tremendous commitment, dedication and work ethic to enrich our community and make it a better place to be.
Charles Gilhuly Award: This award recognizes a person much like Mr. Gilhuly, who has worked tirelessly behind the scenes for nothing more than the self satisfaction of enhancing the quality of life in Smiths Falls.
Municipal Volunteer Award: This award recognizes a volunteer who has given their time and assisted in creating change through service on one or many municipal boards or committees. One award is given annually.
Good Neighbour Award: Awarded to Smiths Falls residents for their outstanding effort or action to help a fellow citizen in a time of need. A maximum of three individuals may be awarded each year.
The nomination period for the 2023 Community and Volunteer Awards is now open until Friday May 5th, 2023 no later than 4:00 p.m.
The fillable nomination form can be accessed online at smithsfalls.ca/awardsnominationform or printed copies may be picked up at Town Hall reception, as well as the Smiths Falls Memorial Community Center office. Printed nominations forms can be dropped off at the front reception desk or placed into the black box outside of the main entrance of Town Hall.
The awards ceremony will take place Thursday, May 18th from 6 – 9 p.m. at the Station Theatre, and will also announce this year's Remarkable Women recipients.
-30-
Media Contact
Esther Njuguna
Communications and Marketing Coordinator
Town of Smiths Falls
613-283-4124 ext. 113
Subscribe to this page