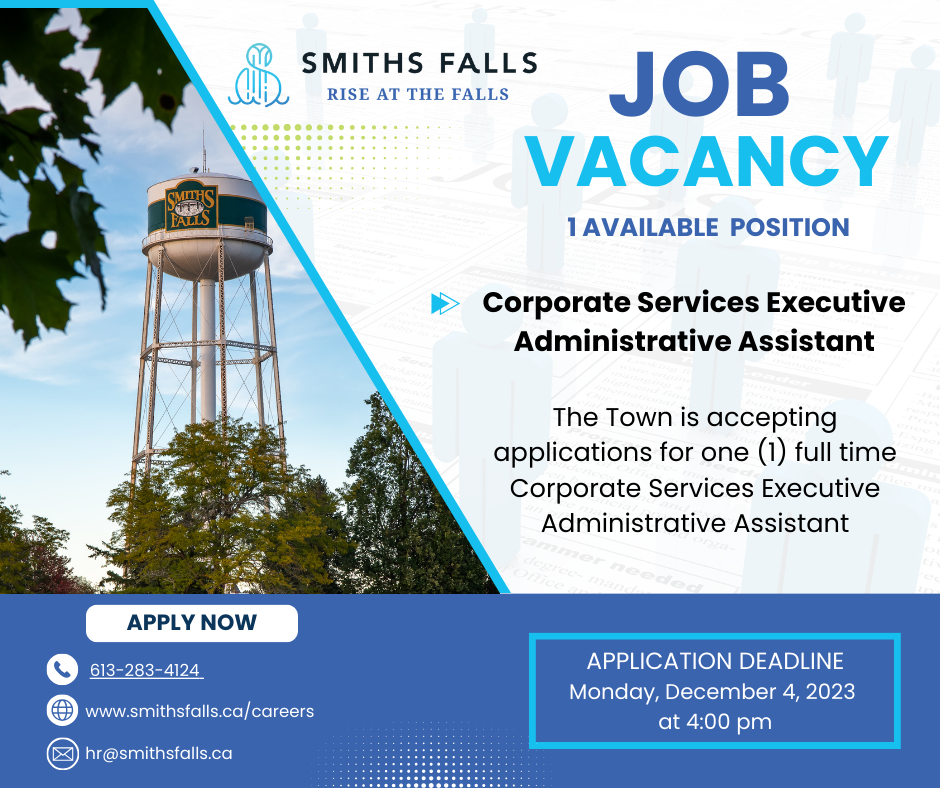 The Town of Smiths Falls
Requires One (1) Full-Time
Corporate Services Executive Administrative Assistant
The Town of Smiths Falls is a vibrant, progressive single tier municipality with a population of 9,500. One of Eastern Ontario's most scenic communities, we are centrally located within an hour of Ottawa, Kingston, Brockville and the US border.
The Town provides a high quality and affordable life for its residents, with beautiful heritage buildings, a performing arts theatre, a charming downtown, and world-class museums and recreational facilities. Enjoy our thriving cultural scene with live music, foodie finds, a local brewery, and dozens of community events – all at the heart of the Rideau Canal, Ontario's only UNESCO World Heritage site and a gateway to the region's abundant lakes and waterways.
The Town is seeking a dynamic self-starter to join our team and make a difference. Under the direction of the Chief Administrative Officer, you will play an integral role in the smooth function of our Corporate Services Department.
Some of the duties include:
Administrative assistance to the Chief Administrative Officer, Clerk and Fire Chief (including research, scheduling meetings, minute taking, preparation of reports , and correspondence.)
Administer lottery licences.
Deputy Division Registrar for the issuance of Marriage Licences and Burial Permits
Commissioner of Oaths
Support in the day to day activities/functions within the Corporate Services Department.
For further information respecting the role and requirements, please visit the Town of Smiths Falls Website:
https://www.smithsfalls.ca/en/town-hall/resources/Documents/Careers/Job-Description---Executive-Administrative-Assistant.pdf
Qualified applicants are invited to submit their resume by Monday December 4th, 2023 at 4:00 p.m., to Nadine Bennett, Human Resources Advisor, Town of Smiths Falls, P.O. Box 695, 77 Beckwith Street North, Smiths Falls, Ontario, K7A 4T6 or via email at hr@smithsfalls.ca
The Town of Smiths Falls is an equal opportunity employer, committed to ensuring all candidates are able to participate in the interview process fully and equally. If contacted for employment, please let us know if you require any accommodations to ensure you can participate fully and equally during the recruitment and selection process.
We thank all applicants for their interest and only those selected for an interview will be contacted.
Personal information collected from applications is collected under the authority of the Municipal Freedom of Information and Protection of Privacy Act, and will be used to determine qualifications for employment. Questions about the collection of Information should be directed to the Clerk at the address indicated above.
Subscribe to this page