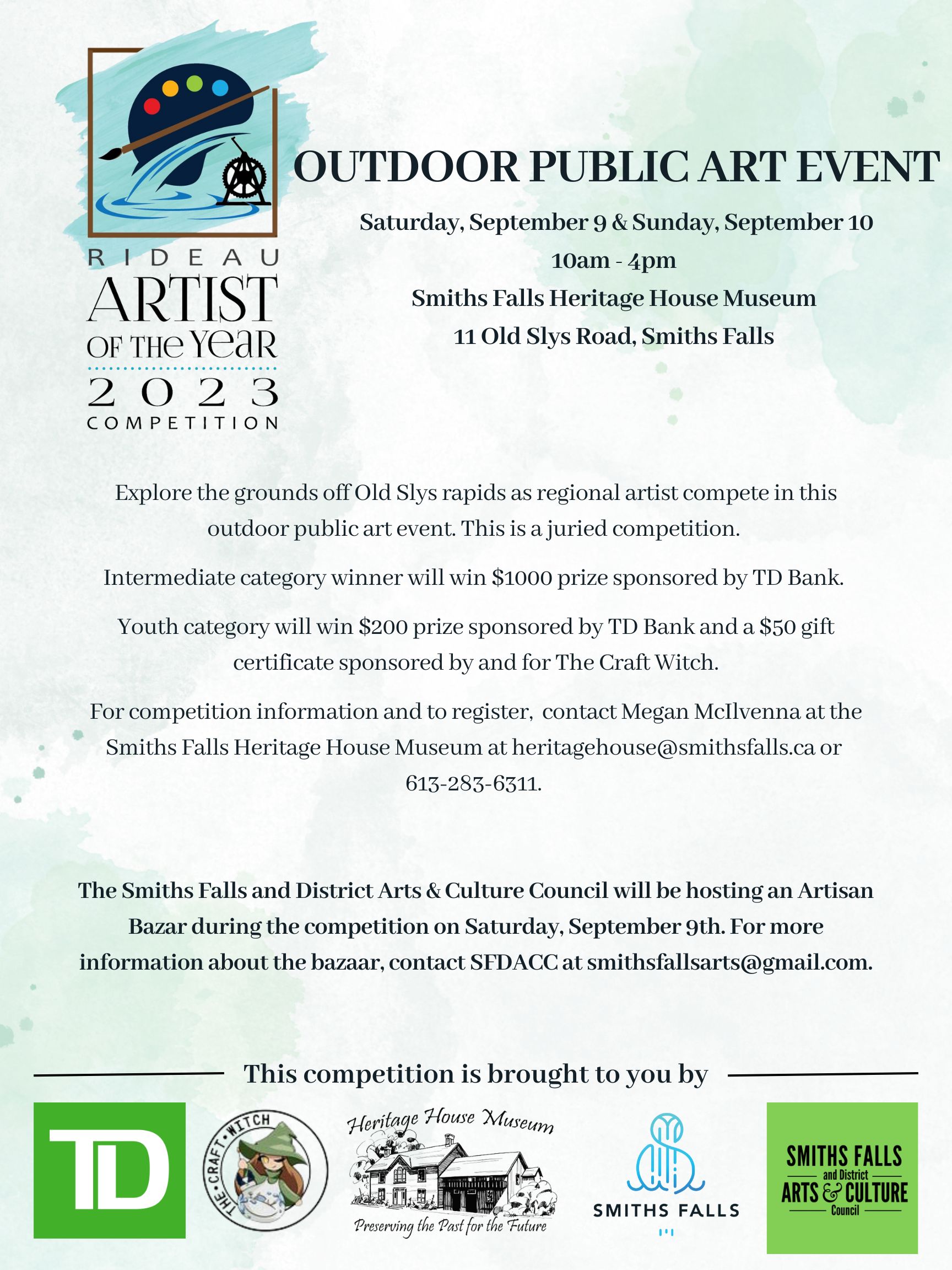 MEDIA RELEASE
FOR IMMEDIATE RELEASE
August 10, 2023
Smiths Falls Heritage House Museum to host Rideau Artist of the Year Competition for the second year
Smiths Falls, ON - The Smiths Falls Heritage Museum invites artists and the public to the picturesque grounds of the museum, Old Slys Rapids and Lock Station on September 9th and 10th to create an original work of art that captures the beauty of the Rideau Canal in Smiths Falls. This location showcases a beautiful stone train bridge, rapids, natural wildlife, built heritage and of course the Rideau Canal, a UNESCO World Heritage Site.
In the tradition of en plein air, artists from the region will be creating works, live and outdoors. This competition is open to artists of all mediums who will have the weekend to complete an original work of art and submit it to the museum's gallery.
A jury of art professionals will review submissions and select two winners in an Intermediate Prize Category (18+) and Youth Prize Category (under the age of 18). The Intermediate winner will receive a prize of $1000 and the title of Rideau Artist of the Year. The Youth winner will receive a prize of $200 and a $50 gift certificate to The Craft Witch. The prize money for both categories has been generously sponsored by TD Bank Group.
To showcase local talent, submitted pieces will be displayed where possible in the museum's gallery until Saturday, October 8, 2022.
The public is invited to join in the fun, admire the artists at work, the grounds, family friendly activities, and a bazaar on September 9 being hosted by the Smiths Falls & District Arts & Culture Council, from 10 am - 3 pm.
For information on the market or to register as a vendor, please contact: smithsfallsarts@gmail.com.
For more information about the competition or how to register, please contact Megan McIlvenna at the Smiths Falls Heritage House Museum at 613-283-6311 or by email at mmcilvenna@smithsfalls.ca.
-30-
Media Contact
Esther Njuguna
Communications and Marketing Coordinator
77 Beckwith Street N, Box 695
Smiths Falls, ON K7A 2B8
613-283-4124 ext. 1137
Subscribe to this page